Family Owned and Operated Since 1980
Ideal Platinum 3000
Hopper Windows
Tilting inward, basement hopper provides both light and ventilation in many hard to accommodate areas in your home. The stainless steel hinges provide durability while the sash tilts inward with easy turn and tilt locks. Designed to keep insects, rodents, and cold air outside of the home, the optional dryer vent provides added protection from the weather and minimizes wall damage during installation.
---
Standard Features
Weather resistant, fully welded frame and sash is strong, durable and maintenance free
EMS+ glass package includes Duralite warm edge spacer
Foam filled frame and sashes add energy efficiency and comfort
Double strength glass which is heavier and far more durable than single strength
Heavy weatherstripping and bulb seal redcues air, water and noise infiltration
Slimline design provide less vinyl frame, more glass
Extruded aluminum screen frame with heavy duty aluminum corner reinforcements and "UltraView" mesh
Heavy-duty latch and keeper provide enhanced security to your home's basement
Stainless steel hinge assembly for durability and ease of operation
---
Dual surface, double strength LowE glass. Using two surfaces of LowE provides the same level of efficiency as a triple glazed unit. Argon Gas - more dense than air, slow down the movement of air within the 7/8" airspace, reducing the transfer of heat to cold for improved energy performance.
---
Duralite offers a new level of thermal performance to windows reducing conductivity by up to 45%. This radical improvement in thermal properties is achieved by eliminating metal and replacing over 60% of the spacer profile with air. The patented design featuring a unique composite laminating technology without the use of metal results in superior thermal and durability performance.
---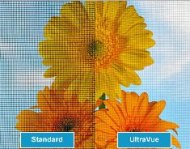 The UltraVue invisible insect screen is an innovative screen mesh that allows you to see the view and not the screen. UltraVue provides better airflow, more clarity, and better insect protection.
---
All these features with one of the best warranties in the industry
---
Top